Ruane Friar Development Center
#GAMECHANGER
Providence College Dedicates Ruane Friar Development Center
First phase of construction, featuring practice courts for Men's Basketball and other amenities, is complete.
---
Providence College (PC) today dedicated the new, $30 million Ruane Friar Development Center (RFDC) before a crowd consisting of PC student-athletes and other students, faculty and staff, elected officials, PC men's basketball season ticket holders and invited guests. PC President Rev. Brian J. Shanley, O.P. '80, cut the ceremonial ribbon with assistance from Director of Athletics Bob Driscoll, Head Men's Basketball Coach Ed Cooley, Head Women's Basketball Coach Jim Crowley and PC benefactors Michael A. Ruane '71 & '13Hon. and his wife, Elizabeth. Fr. Shanley also blessed the building.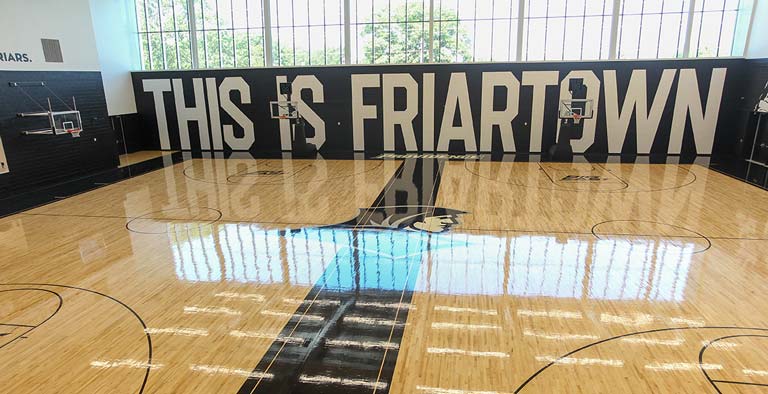 The RFDC is a multi-purpose building that will significantly enhance Friar athletics, student services, and College community life. The facility includes a 56,000 square foot, two-court practice facility for Men's Basketball, and improvements for other student-athletes, including a new Innovation Lab, an expanded Canavan Sports Medicine Center and a student-athlete fueling station. Other highlights include an athletic training center, offices, a new Friar Athletics Hall of Fame, and a statue of legendary PC Men's Basketball Coaches Joe Mullaney '65Hon & '98Hon and Dave Gavitt '89Hon, located just outside the entrance patio. The large patio serves as a useful outdoor function location and an impressive backdrop to the Ray Treacy Track at Hendricken Field.
A second phase of construction will include glass walls and a transparent fabric roof, forming an atrium that will connect the RFDC to Alumni Hall and the Slavin Center, while creating a welcoming, informal gathering space for the College community.
The lead gift for the RFDC came via the generosity of Mr. & Mrs. Ruane. Combined with a commitment to create the Michael A. Ruane Distinguished Chair in Economics, the Ruanes' gift is the largest the College has received from a living alumnus. A portion of the Ruanes' gift also will support program enhancements to help Friar athletic teams compete for championships and strive for excellence. In addition to two faculty chairs – one in economics and one in business – the Ruanes have provided unprecedented support to PC over the years. The Ruane Center for the Humanities, dedicated in 2013, is named for them, as is the Ruane Atrium at the Concannon Fitness Center. The Ruane family also supports students through the endowed Michael A. Ruane '71 Scholarship.
After graduating from PC in 1971 with an economics degree, Michael Ruane earned an M.B.A. from the Wharton School at the University of Pennsylvania. He is the founding owner, chair, and managing partner of Boston-based TA Realty, one of the nation's largest real estate investment advisory firms. Mr. Ruane served as the chair of the Providence College Board of Trustees from 2003-13.
The two practice courts in the new facility are named for the families of the court donors, Billy Donovan '87 and his wife, Christine D'Auria Donovan '86, and George and Karen Oliver, the parents of George Oliver, Jr. '09. Other major donors include Joe '65 and Sugar Calabria '93P and '22GP (the Calabria Hall of Champions) and M. Joseph '65 and MaryBeth Canavan '89P (Canavan Sports Medicine Center).
Dimeo Construction of Providence served as the general contractor for the RFDC. Perkins Eastman of New York served as the building's architect. Advent, which is headquartered in Nashville, Tenn., created the branded spaces through design, stories and digital elements.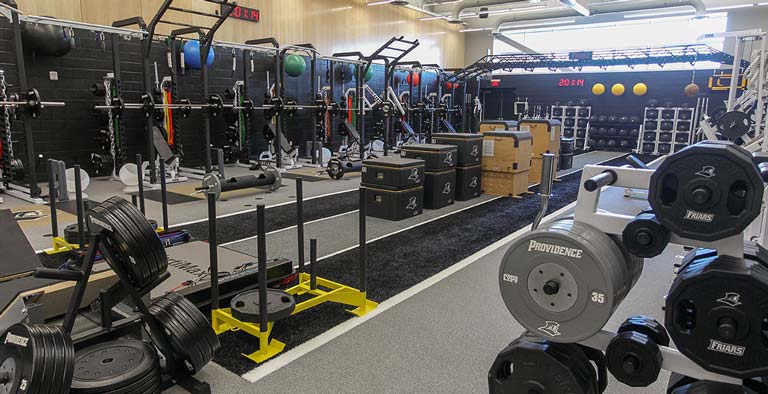 "This is a great day for Friar student-athletes, and for the entire Providence College community," said Providence College President Rev. Brian J. Shanley, O.P. "We are the last BIG EAST school to construct an on-campus practice facility. This has allowed us to learn from what others have done, so that we could combine elements from the best examples nation-wide as well as conference-wide. The Ruane Friar Development Center is state-of-the-art and will provide a superb level of training, support and education for our student-athletes. We are most grateful to Mike and Liz Ruane for their unwavering support of Providence College."
"Great student-athletes want to train in great facilities," Providence College Athletics Director Bob Driscoll said. "It is through the generosity of Mike and Liz Ruane, and many other loyal supporters, that today we are opening one of the premier training facilities in the nation — the Ruane Friar Development Center. All of our student-athletes will benefit from access to this facility through the state-of-the-art conditioning and wellness areas. Mike and Liz [Ruane] have worked to promote the well-rounded advancement and development of our student-athletes. In that context, it is fitting that the Ruane Friar Development Center will provide benefits for student-athletes across all our programs."
"The Ruane Friar Development Center will have a tremendous impact on Providence College," Providence College Men's Basketball Head Coach Ed Cooley said. "It already has been instrumental in helping us recruit, and it will continue to help us recruit some of the top basketball talent in the country. For our current student-athletes, they will now train in one of the best facilities available. We are so fortunate and appreciative to call the Ruane Friar Development Center our new home. I want to thank Mike and Liz Ruane, and all of the Friar fans who made this possible with their support."
The second phase of construction, to begin in the near future, also will feature a new Center for Career Education and Professional Development, and the expansion and renovation of '64 Hall — the College's largest function facility — located in the Slavin Center.
Founded in 1917, Providence College is the only college or university in the United States administered by the Dominican Friars. The Catholic, liberal arts college has an undergraduate enrollment of approximately 4,000 students and offers degrees in 52 academic majors and 38 minors. Since 1997, Providence College consistently has been ranked among the top five regional universities in the North according to U.S. News & World Report's "America's Best Colleges."
-GO FRIARS-
For additional information including available naming opportunities, please contact Steve Napolillo at 401-865-2677.