Our Stories
Providence College Athletics Announces Leadership Gift from Mark Mandell Esq. & Yvette Boisclair Esq. '84
---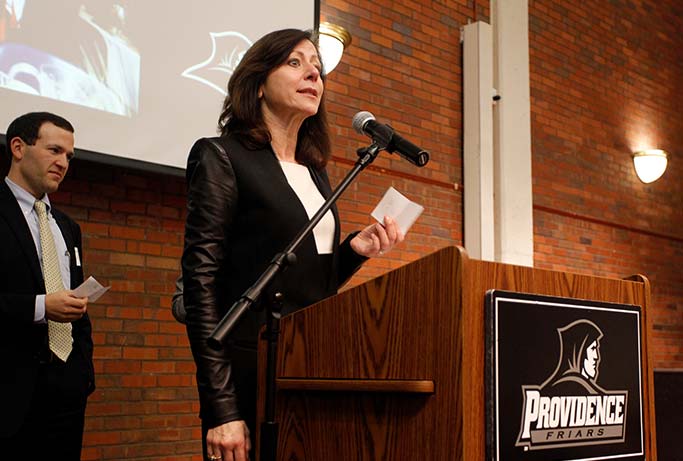 Providence College Athletics announces leadership gift from Mark Mandell and Yvette Boisclair '84. A portion of the gift will create the Mandell-Boisclair Leadership Academy for student-athletes.
Providence College Athletics has announced a generous gift of $350,000 from Mark Mandell Esq. and Yvette Boisclair Esq. '84. The gift will impact PC student-athletes in a variety of areas including an endowed scholarship for the Volleyball program, enhancements to the Mandell-Boisclair student-athlete career night, professional experience including internships and study abroad programs as well as a leadership academy.
The Friars have announced a partnership with velocityHUB, a leading provider of business consulting and professional training services, through their collegiate leadership program, the Victory Academy. This program will officially be called the Mandell-Bosiclair leadership academy.
Providence College Athletics mission is to build champion citizens, scholars and athletes who will positively impact the world around them. Our core values are centered in the Dominican tradition of "Veritas", (VALIANT, EXCELLENCE, RESPECT, INTEGRITY, TRUST, ACCOUNTABILITY, SERVICE) guiding us in our decision-making and interactions. Through this partnership with the Victory Academy, PC Athletics is dedicated to providing an enriching student-athlete experience committed to the pursuit and achievement of excellence by establishing a comprehensive suite of programs and services to support personal development.
Friar student-athletes will gather for 5 leadership workshops across the course of the spring semester. The academy will cover a range of impactful leadership topics. Specific areas of focus will include leadership styles, mental toughness, high performance mindset, becoming a captain and developing a plan. They will be given tools and strategies to develop personal leadership styles to become confident leaders in the classroom and on the field. The Academy will also provide all head coaches with a collaboration kick-off reception.
Robert G. Driscoll, Jr., Director of Athletics, is enthusiastic about the new partnership with Victory Academy. "We are committed to creating and maintaining a student-centered department by offering a suite of programs and services to promote personal growth and leadership skills. Victory Academy will build our athletes knowledge and understanding of the world around them and how they conduct themselves as positive role models and agents of social change. I would like to extend my deepest gratitude to Mark Mandell and Yvette Boisclair '84 who have generously funded this program, which will be referred to as the Mandell-Boisclair Leadership Academy."
Kristen Kjellman Marshall, a Partner at velocityHUB and Executive Director of the Victory Academy, is excited to lead the upcoming academy. "Our team is excited about the opportunity to work with Providence College student-athletes. At the Victory Academy, we're dedicated to preparing student-athletes to be strong, confident leaders in the classroom, on the field and in the community. We hope to inspire and impact Providence College student-athletes to maximize their leadership potential and propel them to success."
About the Victory Academy
The Victory Academy delivers hands-on, experiential leadership programs for students, athletes, coaches and administrators at many of the world's most prestigious colleges, universities, prep schools and high schools. Our vision is to inspire leadership to empower the emerging generation to maximize their potential and lead others to VICTORY. The Victory Academy is endorsed by many of the world's leading academic institutions such as Dartmouth College, University of Miami, Brown University, Tufts University, Babson College, Connecticut College, WPI and Amherst College. Over 35 institutions have endorsed Victory programs for their students, including 50% of the NESCAC & Ivy Leagues. Over 10,000 students and emerging leaders have been inspired through Victory training and the impact is evident through a 98.5% student satisfaction rate on Victory Academy surveys. Learn more: www.victory.academy.
About Kristen Kjellman Marshall
Kristen Kjellman Marshall is a Partner at velocityHUB and the Executive Director of the Victory Academy. The velocityHUB team serves as consultants, trainers and executive coaches to some of the world's leading companies, universities and entrepreneurial, growth-oriented businesses. Kristen is the driving force behind velocityHUB's Victory Academy, a series of leadership development programs specifically focused on maximizing the potential of the emerging generation for colleges, high schools and youth groups. Kristen and her diverse team of leadership coaches work with academic and athletic departments to instill leadership attributes, professional skills and bring real-world experience to some of the most prestigious campuses across the country.
About velocityHUB
velocityHUB's vision is to build one million leaders by delivering results-oriented training programs, high-value consulting and targeted executive coaching. velocityHUB has developed 110,000 leaders in 14 diverse industries. The velocityHUB clients range in size from 350,000 employees to one-person sole proprietorships and are publically traded market leaders, private businesses, family-owned businesses, venture-backed startups, associations, nonprofits and academic institutions. Learn more about velocityHUB at www.velocityhub.com.
John '94 and Holly '94 Slattery Make Transformational Gift to Providence College
---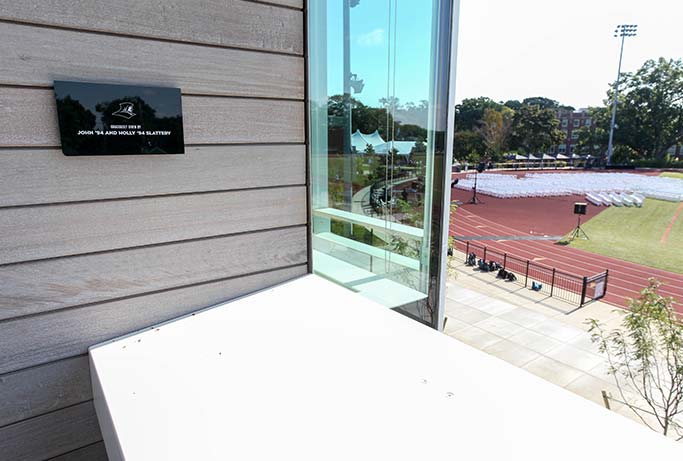 It was announced today (Oct. 9) that John '94 and Holly '94 Slattery have made a $250,000 gift to Providence College to name the balcony in the Ruane Friar Development Center and establish an endowed scholarship.
The Ruane Friar Development Center is the College's brand new state-of-the-art varsity athletics training facility. The balcony in the facility will serve as the destination for varsity student-athletes as it is located adjacent to the dining center and sports medicine innovation lab. Overlooking Ray Treacy Track, the Slattery Balcony will also be utilized as a premier space to host college events.
"The generosity of John and Holly has literally changed the landscape of our athletic department and will enable us to recruit the highest caliber student-athletes to Providence College," said Athletic Director, Bob Driscoll.
The Slattery's donation will also establish an endowed scholarship at the College, given out annually to a student from a single parent home with financial need.
"Holly and I had a great experience at Providence College and we wanted to do our part to make a Providence College education available for students who may not otherwise be able to afford it. Providence College has established itself as a premier institution and a lot of that is due to the success of the men's basketball program under Coach Cooley and the exposure that it brings to the College. We are proud to support both the men's basketball program and a scholarship because we feel it is our way of giving back to a place that has given us so much," said John Slattery, who is a Managing Director at J.P. Morgan.
"Spending time with John and Holly made it clear to me that they wanted to make a gift that was going to impact multiple areas of the College. By supporting our men's basketball program and endowing a scholarship, they are providing the gift of opportunity for generations to come and I am incredibly grateful for their generosity," said Head Men's Basketball Coach Ed Cooley.
The College is planning a reception for members of the Class of 1994 on the Slattery Balcony this spring when they celebrate their 25th Reunion.
Joseph M. Calabria '65
Calabria Plaza Adorns Slavin Lawn
---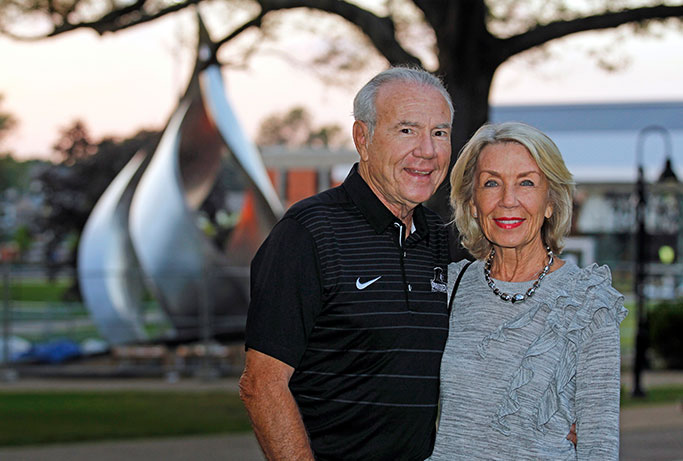 Joseph M. Calabria '65, a member of the PC Board of Trustees, and his wife, Sugar, wanted PC's campus to have a physical representation of Veritas, the PC motto that is symbolized by the torch. The result was the creation of the Calabria Plaza on the Slavin Center lawn, featuring a stainless-steel flame that is 33 feet tall — a foot for every year that Jesus lived on earth — with its three tongues of "fire" representing the Holy Trinity.
A granite plaza surrounds the flame, which is illuminated at night. It includes benches for reflection and a polished granite wall on which are engraved the names of Dominican saints, the words to the Alma Mater, and the Dominican and College seals. The pattern of stones is meant to reflect the star of St. Dominic.
The flame concept was designed by Stephen Forneris '90. The sculptor was Brian Hanlon.
Nate Leaman
---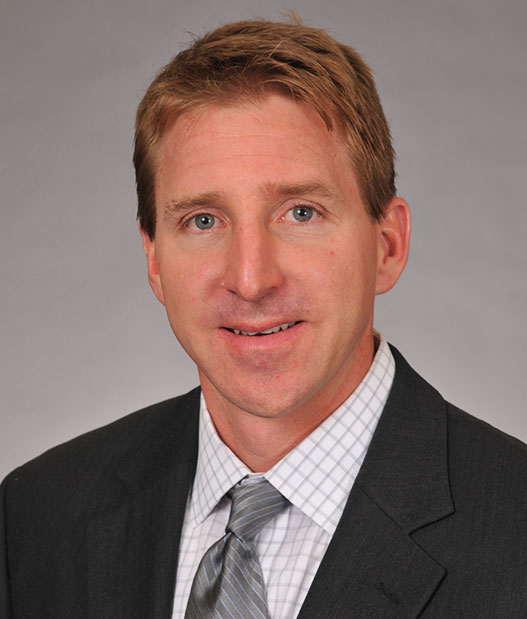 Entering his sixth season at the helm in 2016-17, Head Coach Nate Leaman has led a resurgence of the Providence College men's hockey program, highlighted by winning the 2015 NCAA Championship, marking the first NCAA title in program history.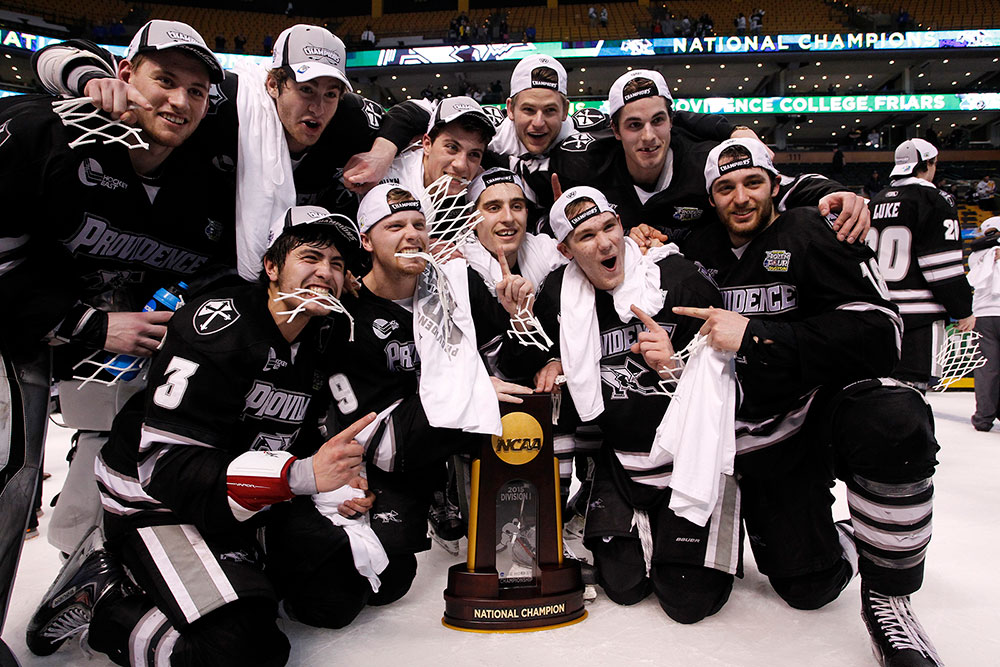 The Friars boasted the second-most wins in program history in 2015-16 (27) and earned their third-consecutive trip to the NCAA Tournament.  Overall, the Friars finished the season with a 27-7-4 record, including a program-best 16-3-3 Hockey East record which netted the team its first share of the Hockey East regular season title. Paced by Mark Jankowski's 40 points, the first time a Friar has hit the 40-point mark since 2002-03, Leaman's squad raced out to an undefeated first half of the season (12-0-3) and ran its unbeaten streak to 19-games dating back to 2014-15.  The Friars were the first team since Colorado College in 1995-96 to be unbeaten entering the Christmas break and also secured the best start to a season by a reigning NCAA hockey champion.
Leaman became the fastest Friar Head Coach to reach 100 career wins and holds a 106-65-23 record (.606) with the Friars.  For his efforts, he was named Hockey East Coach of the Year and a Spencer Penrose finalist for National Coach of the Year.
The Friars advanced to the Hockey East Championship semifinals at the TD Garden for the fourth time in Leaman's first five seasons and holds a 5-2-0 record in seven NCAA Tournament games with Providence.
Leaman has coached 117 All-Conference Academic selections, 28 NHL Draft picks, 19 All-Conference selections, eight All-Conference Rookie Team honorees, nine All-Americans, three ECAC Student-Athletes of the Year, two CoSIDA/ESPN The Magazine Academic All-District Honorees and one Hobey Baker finalist.
Eight members from the 2015-16 squad ended up signing entry level contracts or amateur try-out agreements with professional teams: Tom Parisi (Montreal – NHL), Mark Jankowski (Calgary – NHL), Brandon Tanev (Winnipeg – NHL), Nick Ellis (Edmonton – NHL), Kevin Rooney (Albany – AHL), Trevor Mingoia (Albany – AHL), Nick Saracino (Iowa – AHL), and Steve McParland (Elmira – ECHL).  Tanev appeared in the final three regular season games with the Jets.
Leaman is a 1997 graduate of SUNY Cortland, where he earned a Bachelor of Science degree in biological sciences with a concentration in environmental science and received the Aldo Leopold Award for excellence in environmental science. Captain of the hockey team as a junior and senior, Leaman finished his career as one of the top-20 scorers in Red Dragons' history. He was inducted into the Red Dragons' Hall of Fame in September, 2014. A native of Centerville, Ohio, Leaman and his wife, Alice, have three young sons, Ty, Bryce and Nolan.
Ray Treacy '82
---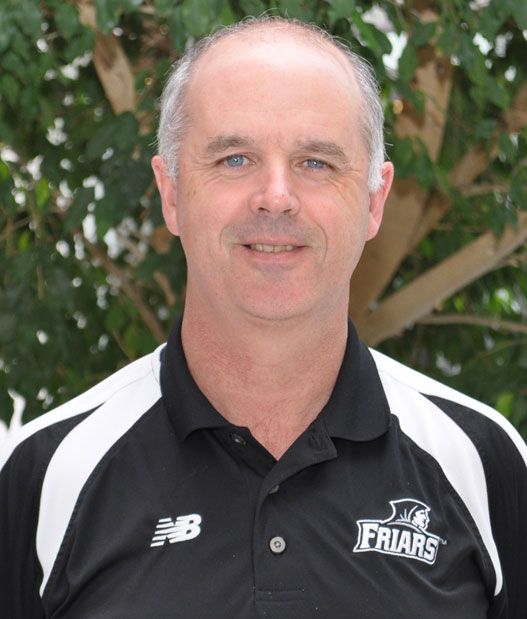 One of the nation's most successful coaches, Ray Treacy embarks on his 32nd season as Director of Cross Country and Track at Providence College. In his 31 years at Providence, Treacy has coached 63 All-Americans, who have received a total of 174 All-America accolades, seven NCAA individual champions, who have captured 15 NCAA titles overall, 44 BIG EAST individual champions, who have captured 116 BIG EAST titles, and 11 Olympians. In addition, his women's teams have captured two NCAA Cross Country Championships (1995 and 2013), 13 NCAA Northeast Regional Cross Country Championships, 21 BIG EAST Cross Country titles and 20 New England Championships.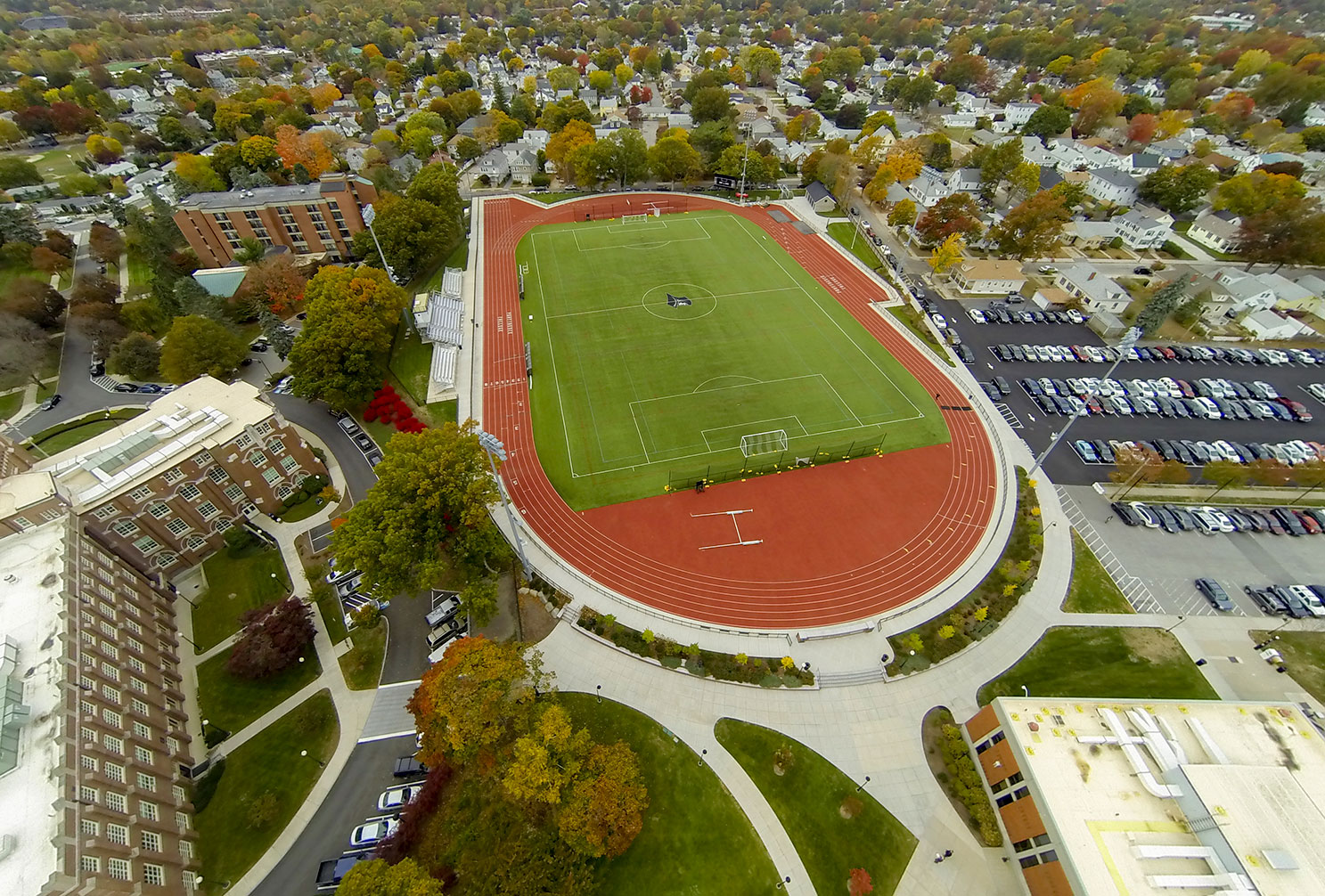 Treacy's road to success began when he was a student-athlete at Providence College. The brother of 1984 Olympic silver medalist, John Treacy '78, Ray's collegiate list of accomplishments and accolades is lengthy. He was the Friar team captain during his junior and senior seasons and collected All-America honors on three occasions. He was a two-time New England Cross Country Champion and won the indoor 5,000 meters at the BIG EAST Championships three times. The talented distance runner also was the IC4A Champion in the 10,000 and 5,000 meters during the 1981 and 1982 seasons, respectively.
A 1982 graduate of the College, Treacy is committed to the success of PC's cross country and track programs. Since he took over as head coach in 1984, Treacy's knowledge of conditioning and training has moved the Providence's cross country and track programs into national prominence. Both the men's and women's cross country programs have advanced to NCAA Championships in 18 of the last 20 seasons, while the women's team has landed a record 25 out of 26 seasons.
Highlights among those 25 women's cross country seasons include the 1990, 1995, 2003, 2004, 2012 and 2013 women's cross country squads. These six teams each finished among the top-three teams in the country at the NCAA Cross Country Championships. The 1990 cross country team placed second with three runners in the top 20 earning All-America honors. Along with the team's 1995 and 2013 NCAA titles, the 1990 squad's second-place finish is one of the top accomplishments of the program along with the 2012 team's second-place finish.
The 1995 team captured the programs first NCAA title. On the road to the title, the squad won its first BIG EAST and ECAC Championships. In recognition of his efforts, Treacy was named NCAA Division I Women's National Coach of the Year, BIG EAST Men's and Women's Coach of the Year, Rhode Island Words Unlimited Women's Coach of the Year and NCAA District I Women's Cross Country Coach of the Year.
The most recent of Treacy's team successes was the 2013 women's cross country team capturing the program's second NCAA title. Three Friars, Emily Sisson '14, Laura Nagel '14 and Sarah Mary Collins '16, finished with All-America accolades to help the team secure the win. Leading up to the Championship, the team also won the BIG EAST and NCAA Northeast Regional titles. For his efforts, Treacy was named the USFTCCCA National Coach of the Year, the Northeast Women's Cross Country Coach of the Year and the Rhode Island Words Unlimited Coach of the Year. A former Irish national junior champion and a past member of the Irish National Cross Country Team, Treacy currently resides in Warwick, R.I. with his wife, Lisa. They have two sons, Michael and Liam.
Diane Madl
---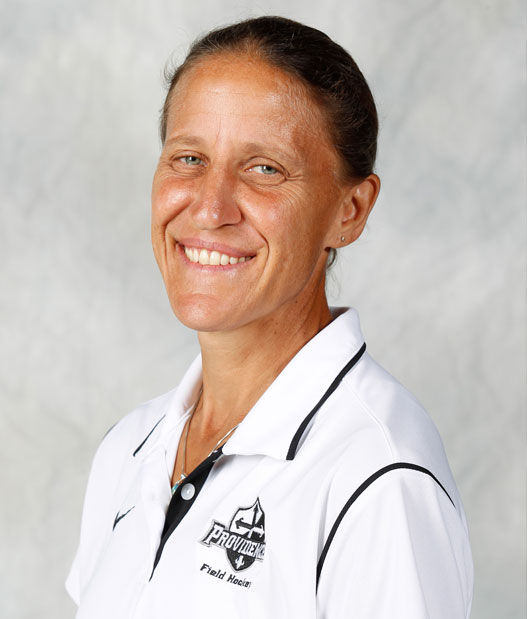 Diane Madl became the field hockey programs' sixth head coach on February 4, 2002 and will embark on her 15th season with the Friars in 2016. Madl and her staff have enjoyed some of the most successful seasons in program history.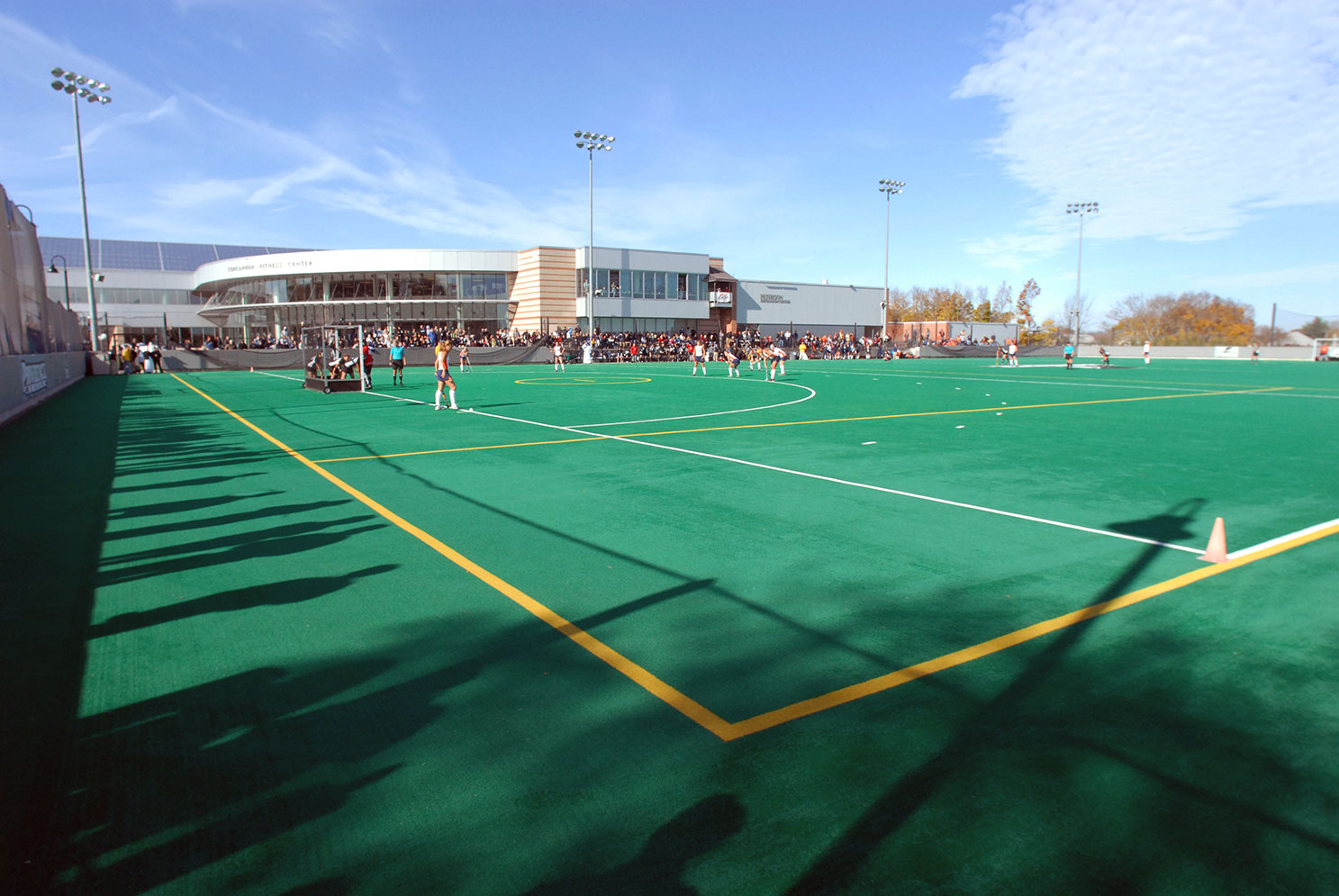 Providence has qualified for the four-team BIG EAST Championship in five of the last eight seasons under Madl's guidance. The Friars captured the BIG EAST Conference regular-season title in 2006 and advanced to the championship game of the conference tournament twice (2006, 2007).
During Madl's first three seasons on the sidelines, the team still played on a grass surface. During that initial stretch, the team posted a 26-33 record, while attempting to change the culture of the program under its new leadership. In 2005, Providence field hockey started a new era with the opening of the Lennon Family Field. The complex is a state-of-the-art Astroturf facility that has helped to springboard the program back on to the national scene.
The Friars' run of success began in 2006 in what is described as one of the most celebrated seasons in program history. The Friars posted an 18-4 overall record and captured the BIG EAST Conference Regular-Season title. Providence's 18 victories in 2006 are tied for second most all-time in program history, while the Friars' five league victories mark a program best. The program quickly found itself among the nation's best and was ranked in the NFHCA Division I National Coaches' Poll for nine-consecutive weeks, including seven-straight weeks in the top-15. At season's end, the Friars earned a final ranking of 11th. Madl was honored as the BIG EAST Conference Coach of the Year, Dita/NFHCA Division I Northeast Region Coach of the Year and Words Unlimited Coach of the Year.
Madl, a native of Mountaintop, Pa., was a three-sport stand-out in field hockey, basketball and softball at Crestwood High School. Upon completion of her high school career, she went on to play field hockey at UConn from 1985-88. While at UConn, she helped the Huskies capture the National Championship in 1985. She was a two-time All-America selection (1987, 1988) and earned the Honda Broderick Award upon the completion of her career, as the top collegiate field hockey player in the nation. Madl also earned Academic All-America honors and graduated magna cum laude, with a bachelor's degree in business administration in 1989.
Madl went on to play for the U.S. National Team and competed in a multitude of events for Team USA, including the World University Games (1989), World Cup (1990), Inter-Continental Cup (1989 and 1995) and the Champions Trophy (1995). She reached the pinnacle of her playing career in 1996 as a member of the U.S. National Team that competed in the Olympic Games, held in Atlanta, Georgia.
Madl was inducted into the Luzerne County (Pa.) Athletic Hall of Fame in 2005, and was inducted into the Pennsylvania State Athletic Hall of Fame on May 18, 2008. She is the daughter of Ruth Ann and David Madl.
Two Providence College Athletic Programs Earn NCAA APR Public Recognition Awards
---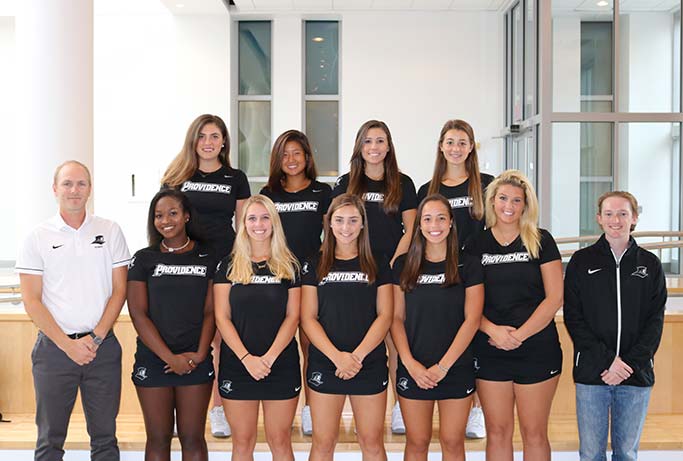 Two Providence College athletic teams garnered NCAA Academic Progress Rate (APR) Public Recognition Awards today (May 16).
For the fifth-straight year, the women's swimming and diving team earned the honor, while the women's tennis team was recognized for the fourth-consecutive season. The Friars have now had multiple teams honored in all 13 years that the NCAA has given out the Public Recognition Awards.
The most recent APRs are multi-year rates based on scores from the 2013-14, 2014-15, 2015-16 and 2016-17 academic years.
APR scores for all Division I teams will be released May 23. The APR measures eligibility, graduation and retention each semester or academic term and provides a clear picture of the academic performance for each team in every sport. All teams must meet an academic threshold of 930 to qualify for the postseason and can face penalties for continued low academic performance.
Academic Year (# of teams): Providence College's Honored Teams
2004-05 (3): Men's Swimming and Diving, Women's Soccer, Women's Volleyball
2005-06 (3): Women's Swimming and Diving, Women's Soccer, Women's Volleyball
2006-07 (2): Men's Swimming and Diving, Women's Soccer
2007-08 (2): Women's Soccer, Women's Swimming and Diving
2008-09 (3): Men's Swimming and Diving, Women's Soccer, Women's Outdoor Track
2009-10 (5): Men's Swimming and Diving, Men's Indoor Track, Men's Outdoor Track, Women's Indoor Track, Women's Outdoor Track
2010-11 (4): Men's Swimming and Diving, Women's Cross Country, Women's Indoor Track, Women's Outdoor Track
2011-12 (4): Men's Swimming and Diving, Women's Cross Country, Women's Indoor Track, Women's Outdoor Track
2012-13 (6): Men's Swimming and Diving, Women's Cross Country, Women's Swimming and Diving, Women's Indoor Track, Women's Outdoor Track, Volleyball
2013-14 (3): Women's Swimming and Diving, Tennis, Volleyball
2014-15 (3): Women's Swimming and Diving, Tennis, Volleyball
2015-16 (2): Women's Swimming and Diving, Tennis
2016-17 (2): Women's Swimming and Diving, Tennis
Kristin Hayman '18
Top scholar Kristin Hayman '18 kicks academic pursuits into high gear
---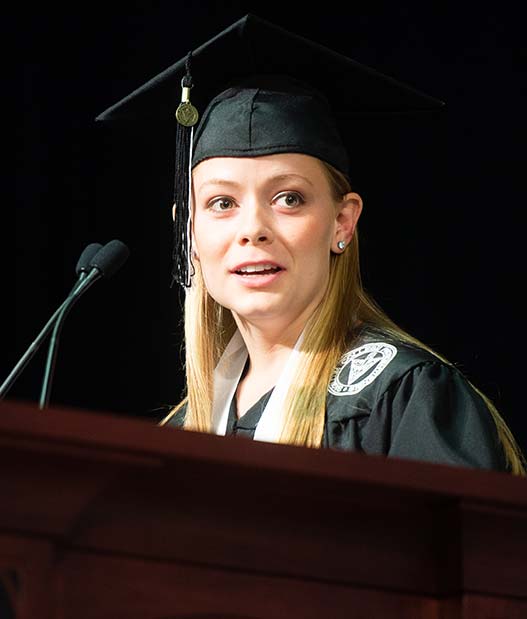 The student with the top academic rank in the Class of 2018 is Kristin Hayman '18 (Redmond, Wash.), a biology major and women's soccer player.
Hayman transferred to Providence College from Gonzaga University at the start of her junior year. She attained a perfect 4.00 grade-point average during her two years at PC while playing in 34 games as a center midfielder. Combined with her transfer credits from Gonzaga, where she studied human physiology, she is the top students in the class and will graduate with summa cum laude honors.
"It's a unique story," said Sam Lopes, the head women's soccer coach. "You move across the country, primarily because you're looking for a different opportunity from a playing perspective, but you don't want to do it at the expense of the academic side. Kristin is a prime example that you can do both. She was able to deal with the rigors of being an NCAA Division I athlete, playing in a major conference like the BIG EAST, and still excel in a rigorous major."
To catch up as a transfer student, Hayman was required to study two semesters of Development of Western Civilization, PC's signature academic program. One of her favorite classes was her DWC colloquium, Love Never Fails: Grace, Truth, and Freedom in the Nazi Era, taught by Dr. Vance G. Morgan, professor of philosophy, and Dr. Raymond L. Sickinger '71, professor of history and of public and community service studies.
"We looked at everything from the perspective of trying to find positive voices and people that had a positive impact on that time in history, along with learning a lot of interesting things about that period, good or bad or in between," Hayman said.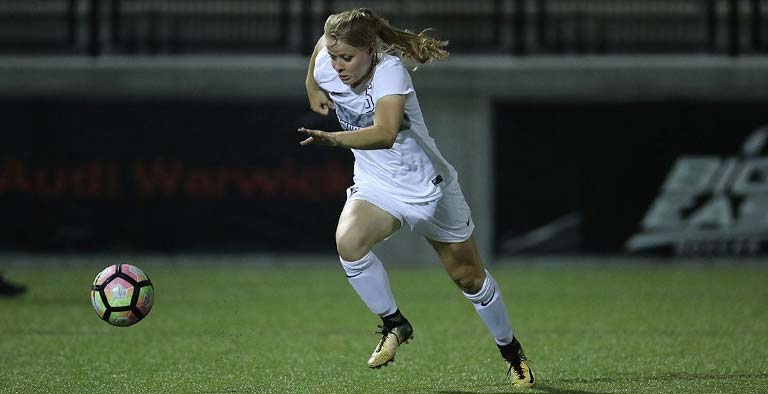 Kristin Hayman '18, who is graduating with a perfect 4.0 grade-point average, is the top-ranked student in the Class of 2018.
Hayman credits her academic success to her ability to manage time. She has played competitive soccer since age 6 and excelled academically in high school, but was "taken aback" when she first realized how demanding college would be.
"It struck me that I really needed to be organized because at the end of the day, one of the big factors is being able to get enough sleep," Hayman said. "I thought, 'Wow, I wouldn't feel good about showing up to practice without a good bit of energy.' In high school I was organized, but I got into bad sleep patterns. At that age, it was OK. In college, it is a big transition to balance the academic workload. It's an adjustment, for sure."
Denise A. Godin, senior associate dean of undergraduate and graduate studies, got to know Hayman during the transfer process.
"She was a transfer student willing to swap one U.S. coast for another to complete her undergraduate education — we had that in common," said Godin, who transferred from the East Coast to the West Coast as a student. "It was clear from the outset that our advising relationship was a definite partnership. We kept each other honest and accurate as we mapped out her program of study each semester."
Godin said she didn't notice Hayman's academic success until her senior year.
"I was both excited and nervous for her. After all, this was a dedicated athlete in a rigorous program of study," Godin said. "She politely shrugged off my excitement and reminded me through her words and actions that it was her humility and work ethic that better reflected her brilliance."
As an athlete, Hayman was impressive, too, Lopes said.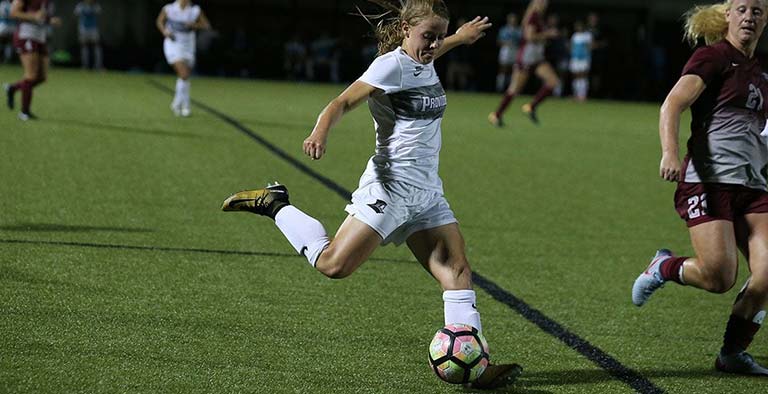 As a center midfielder, Kristin Hayman '18 played in 34 games in her two years with the Friars.
"People won't realize all the other intangibles you can't learn from a GPA or the grades you get," Lopes said. "She is mature, well-spoken, a great leader, and timely with her words. Sometimes people who want to be leaders feel they should always talk to be heard, but she has the gift to speak at the right time, with the right words, to be powerful.
"Kristin is hardworking, intrinsically motivated, and very coachable, wanting to get feedback. She was the first to arrive, the last to leave, and always gave an honest effort as if it was the last game of her career."
At the soccer team's annual banquet in January, Hayman received the Maximize Today Award, presented to the player who has excelled athletically and academically. She also was recognized by the College Sports Information Directors of America, which named her to the 2017 Academic All-District Women's Soccer Third Team for achievements athletically and in the classroom.
Hayman will present the class oration at the Academic Awards Ceremony on Saturday, May 19, at 11 a.m. in the Peterson Recreation Center.
She would like to pursue a career in which she could make a positive impact on the environment, possibly studying to become an environmental engineer. But more immediately, she has hired an agent to explore the possibility of playing professional soccer in Europe.
"I want to keep playing if I can," Hayman said.
Being a student-athlete is "obviously a lot of work and not for everyone, but if I were to go back and do it again, I wouldn't hesitate," she said. "A huge part of what I've taken away is the teammates that I spent so much time with, on and off the field together, the memories we've made, and those teammates being really good friends."
Garrett Gamez '19
Sustained by faith, supported by team
Feature by master storyteller Mike Leonard '70 & '00Hon. inspired by a chance encounter
---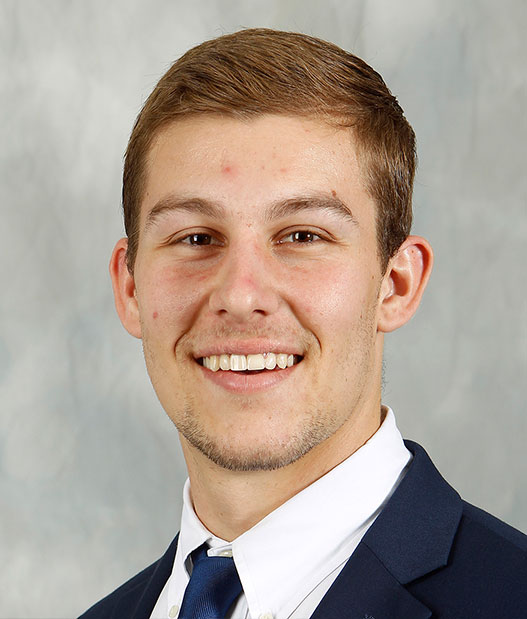 Providence College men's ice hockey player Garrett Gamez '19 (Chino Hills, Calif.) was putting together a fine sophomore season when he collapsed on the bench during a March 11 Hockey East playoff game at Notre Dame. He was cleared to return home after overnight observation in a local hospital, but was held out of the Friars' season-ending NCAA Tournament game against Harvard.
One of the Friar fans present that night was Mike Leonard '70 & '00Hon., himself a former Friar hockey player who lives in Winnetka, Ill. He also is a retired NBC News correspondent whose 30-year career was most notable for regular Todayshow feature stories. Now an independent filmmaker, Leonard often travels with his trusty video camera, especially when those travels involve his alma mater and its hockey team.
"Coach Nate Leaman invited me into the locker room for the pre-game," Leonard said. "Since I'm working on some other PC-related projects, I shot Nate's speech to the team and the players getting ready for the game."
One of those shots depicts Gamez, praying intently moments before taking the ice for that fateful game. Medical testing will continue until mid-summer, and doctors have not yet determined whether it will be safe for him to resume his playing career.
"I know that God has me no matter what. Regardless of if I'm playing hockey or not, he's got a plan for my life. I'm blessed to be experiencing this right now. I'm blessed to go to Providence College and have a great family and I know my life will be forever blessed regardless if I play hockey or not." — Garrett Gamez '19
Leonard was unaware of the seriousness of the situation until a few weeks later when he was visiting campus and he ran into Gamez' teammate and roommate, Vincent Desharnais '19 (Laval, Quebec, Canada).
Desharnais, Leonard said, "expressed concern for Garrett" and described the emotional scene when Gamez returned from Notre Dame after his hospital stay, reuniting with his worried friends. Leonard knew he was looking at a remarkable story, and he was struck by the fact that he had been there for that critical moment in Gamez' life — a moment with which Leonard could identify as one who appreciates what camaraderie and competition mean to a high-level athlete.
The next morning, Leonard and his documentary producing partner, Mary Kay Wall '13P, '15P, '18P, & '20P, interviewed Gamez, Desharnais, and their roommates, Scott Conway '19 (Basingstoke, England) and Hayden Hawkey '19 (Parker, Colo.)
Leonard returned home, and over the course of the ensuing few weeks, produced this touching story that, as he describes it, "touches on all the themes that define what it means to be part of the Providence College community and the Friar athletics family."
Leonard and Wall also produced The Promise of Providence, the acclaimed PC centennial film that debuted in October.