Our Stories
Providence College Athletics Announces Leadership Gift from Mark Mandell Esq. & Yvette Boisclair Esq. '84
---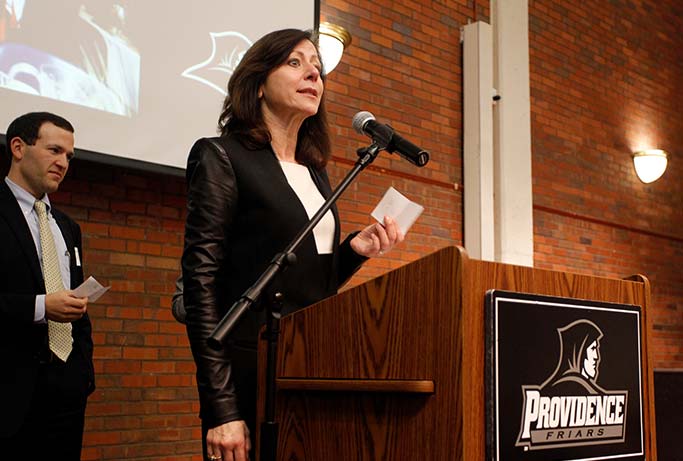 Providence College Athletics announces leadership gift from Mark Mandell and Yvette Boisclair '84. A portion of the gift will create the Mandell-Boisclair Leadership Academy for student-athletes.
Providence College Athletics has announced a generous gift of $350,000 from Mark Mandell Esq. and Yvette Boisclair Esq. '84. The gift will impact PC student-athletes in a variety of areas including an endowed scholarship for the Volleyball program, enhancements to the Mandell-Boisclair student-athlete career night, professional experience including internships and study abroad programs as well as a leadership academy.
The Friars have announced a partnership with velocityHUB, a leading provider of business consulting and professional training services, through their collegiate leadership program, the Victory Academy. This program will officially be called the Mandell-Bosiclair leadership academy.
Providence College Athletics mission is to build champion citizens, scholars and athletes who will positively impact the world around them. Our core values are centered in the Dominican tradition of "Veritas", (VALIANT, EXCELLENCE, RESPECT, INTEGRITY, TRUST, ACCOUNTABILITY, SERVICE) guiding us in our decision-making and interactions. Through this partnership with the Victory Academy, PC Athletics is dedicated to providing an enriching student-athlete experience committed to the pursuit and achievement of excellence by establishing a comprehensive suite of programs and services to support personal development.
Friar student-athletes will gather for 5 leadership workshops across the course of the spring semester. The academy will cover a range of impactful leadership topics. Specific areas of focus will include leadership styles, mental toughness, high performance mindset, becoming a captain and developing a plan. They will be given tools and strategies to develop personal leadership styles to become confident leaders in the classroom and on the field. The Academy will also provide all head coaches with a collaboration kick-off reception.
Robert G. Driscoll, Jr., Director of Athletics, is enthusiastic about the new partnership with Victory Academy. "We are committed to creating and maintaining a student-centered department by offering a suite of programs and services to promote personal growth and leadership skills. Victory Academy will build our athletes knowledge and understanding of the world around them and how they conduct themselves as positive role models and agents of social change. I would like to extend my deepest gratitude to Mark Mandell and Yvette Boisclair '84 who have generously funded this program, which will be referred to as the Mandell-Boisclair Leadership Academy."
Kristen Kjellman Marshall, a Partner at velocityHUB and Executive Director of the Victory Academy, is excited to lead the upcoming academy. "Our team is excited about the opportunity to work with Providence College student-athletes. At the Victory Academy, we're dedicated to preparing student-athletes to be strong, confident leaders in the classroom, on the field and in the community. We hope to inspire and impact Providence College student-athletes to maximize their leadership potential and propel them to success."
About the Victory Academy
The Victory Academy delivers hands-on, experiential leadership programs for students, athletes, coaches and administrators at many of the world's most prestigious colleges, universities, prep schools and high schools. Our vision is to inspire leadership to empower the emerging generation to maximize their potential and lead others to VICTORY. The Victory Academy is endorsed by many of the world's leading academic institutions such as Dartmouth College, University of Miami, Brown University, Tufts University, Babson College, Connecticut College, WPI and Amherst College. Over 35 institutions have endorsed Victory programs for their students, including 50% of the NESCAC & Ivy Leagues. Over 10,000 students and emerging leaders have been inspired through Victory training and the impact is evident through a 98.5% student satisfaction rate on Victory Academy surveys. Learn more: www.victory.academy.
About Kristen Kjellman Marshall
Kristen Kjellman Marshall is a Partner at velocityHUB and the Executive Director of the Victory Academy. The velocityHUB team serves as consultants, trainers and executive coaches to some of the world's leading companies, universities and entrepreneurial, growth-oriented businesses. Kristen is the driving force behind velocityHUB's Victory Academy, a series of leadership development programs specifically focused on maximizing the potential of the emerging generation for colleges, high schools and youth groups. Kristen and her diverse team of leadership coaches work with academic and athletic departments to instill leadership attributes, professional skills and bring real-world experience to some of the most prestigious campuses across the country.
About velocityHUB
velocityHUB's vision is to build one million leaders by delivering results-oriented training programs, high-value consulting and targeted executive coaching. velocityHUB has developed 110,000 leaders in 14 diverse industries. The velocityHUB clients range in size from 350,000 employees to one-person sole proprietorships and are publically traded market leaders, private businesses, family-owned businesses, venture-backed startups, associations, nonprofits and academic institutions. Learn more about velocityHUB at www.velocityhub.com.
John '94 and Holly '94 Slattery Make Transformational Gift to Providence College
---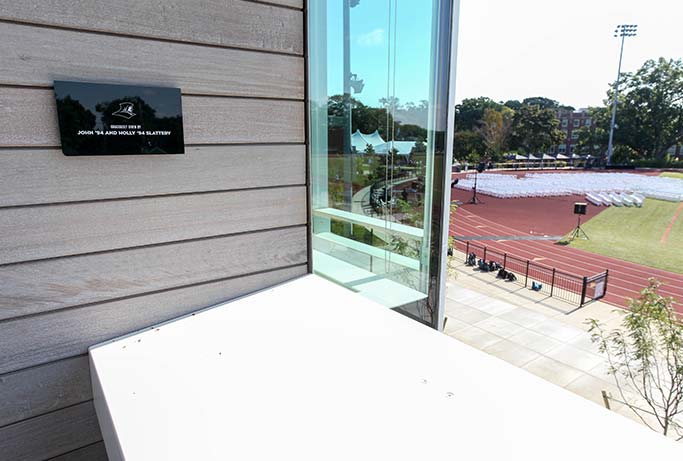 It was announced today (Oct. 9) that John '94 and Holly '94 Slattery have made a $250,000 gift to Providence College to name the balcony in the Ruane Friar Development Center and establish an endowed scholarship.
The Ruane Friar Development Center is the College's brand new state-of-the-art varsity athletics training facility. The balcony in the facility will serve as the destination for varsity student-athletes as it is located adjacent to the dining center and sports medicine innovation lab. Overlooking Ray Treacy Track, the Slattery Balcony will also be utilized as a premier space to host college events.
"The generosity of John and Holly has literally changed the landscape of our athletic department and will enable us to recruit the highest caliber student-athletes to Providence College," said Athletic Director, Bob Driscoll.
The Slattery's donation will also establish an endowed scholarship at the College, given out annually to a student from a single parent home with financial need.
"Holly and I had a great experience at Providence College and we wanted to do our part to make a Providence College education available for students who may not otherwise be able to afford it. Providence College has established itself as a premier institution and a lot of that is due to the success of the men's basketball program under Coach Cooley and the exposure that it brings to the College. We are proud to support both the men's basketball program and a scholarship because we feel it is our way of giving back to a place that has given us so much," said John Slattery, who is a Managing Director at J.P. Morgan.
"Spending time with John and Holly made it clear to me that they wanted to make a gift that was going to impact multiple areas of the College. By supporting our men's basketball program and endowing a scholarship, they are providing the gift of opportunity for generations to come and I am incredibly grateful for their generosity," said Head Men's Basketball Coach Ed Cooley.
The College is planning a reception for members of the Class of 1994 on the Slattery Balcony this spring when they celebrate their 25th Reunion.
Joseph M. Calabria '65
Calabria Plaza Adorns Slavin Lawn
---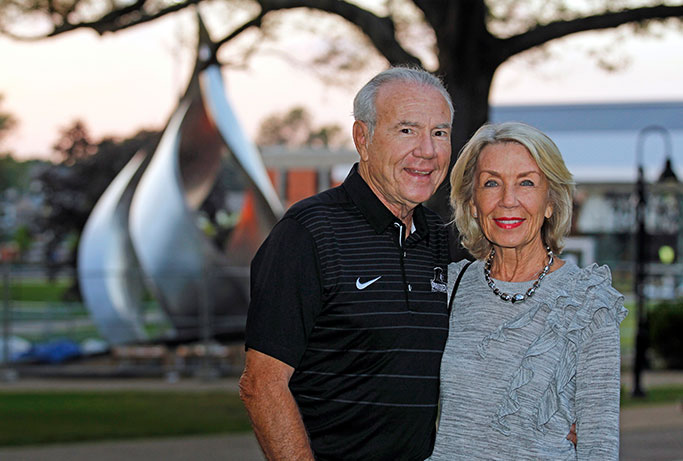 Joseph M. Calabria '65, a member of the PC Board of Trustees, and his wife, Sugar, wanted PC's campus to have a physical representation of Veritas, the PC motto that is symbolized by the torch. The result was the creation of the Calabria Plaza on the Slavin Center lawn, featuring a stainless-steel flame that is 33 feet tall — a foot for every year that Jesus lived on earth — with its three tongues of "fire" representing the Holy Trinity.
A granite plaza surrounds the flame, which is illuminated at night. It includes benches for reflection and a polished granite wall on which are engraved the names of Dominican saints, the words to the Alma Mater, and the Dominican and College seals. The pattern of stones is meant to reflect the star of St. Dominic.
The flame concept was designed by Stephen Forneris '90. The sculptor was Brian Hanlon.
Nate Leaman
---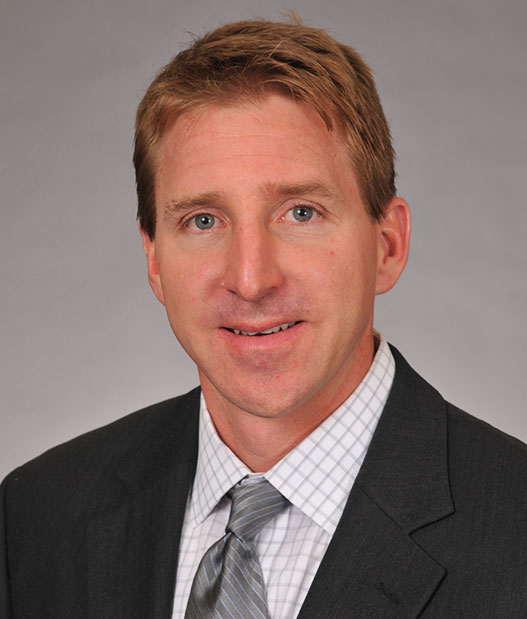 Entering his sixth season at the helm in 2016-17, Head Coach Nate Leaman has led a resurgence of the Providence College men's hockey program, highlighted by winning the 2015 NCAA Championship, marking the first NCAA title in program history.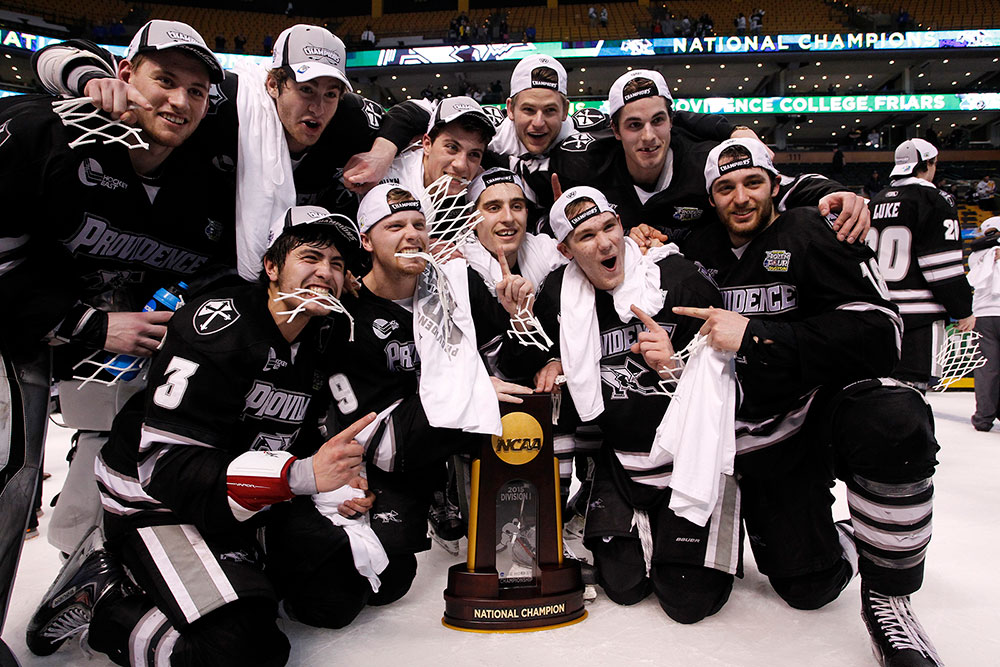 The Friars boasted the second-most wins in program history in 2015-16 (27) and earned their third-consecutive trip to the NCAA Tournament.  Overall, the Friars finished the season with a 27-7-4 record, including a program-best 16-3-3 Hockey East record which netted the team its first share of the Hockey East regular season title. Paced by Mark Jankowski's 40 points, the first time a Friar has hit the 40-point mark since 2002-03, Leaman's squad raced out to an undefeated first half of the season (12-0-3) and ran its unbeaten streak to 19-games dating back to 2014-15.  The Friars were the first team since Colorado College in 1995-96 to be unbeaten entering the Christmas break and also secured the best start to a season by a reigning NCAA hockey champion.
Leaman became the fastest Friar Head Coach to reach 100 career wins and holds a 106-65-23 record (.606) with the Friars.  For his efforts, he was named Hockey East Coach of the Year and a Spencer Penrose finalist for National Coach of the Year.
The Friars advanced to the Hockey East Championship semifinals at the TD Garden for the fourth time in Leaman's first five seasons and holds a 5-2-0 record in seven NCAA Tournament games with Providence.
Leaman has coached 117 All-Conference Academic selections, 28 NHL Draft picks, 19 All-Conference selections, eight All-Conference Rookie Team honorees, nine All-Americans, three ECAC Student-Athletes of the Year, two CoSIDA/ESPN The Magazine Academic All-District Honorees and one Hobey Baker finalist.
Eight members from the 2015-16 squad ended up signing entry level contracts or amateur try-out agreements with professional teams: Tom Parisi (Montreal – NHL), Mark Jankowski (Calgary – NHL), Brandon Tanev (Winnipeg – NHL), Nick Ellis (Edmonton – NHL), Kevin Rooney (Albany – AHL), Trevor Mingoia (Albany – AHL), Nick Saracino (Iowa – AHL), and Steve McParland (Elmira – ECHL).  Tanev appeared in the final three regular season games with the Jets.
Leaman is a 1997 graduate of SUNY Cortland, where he earned a Bachelor of Science degree in biological sciences with a concentration in environmental science and received the Aldo Leopold Award for excellence in environmental science. Captain of the hockey team as a junior and senior, Leaman finished his career as one of the top-20 scorers in Red Dragons' history. He was inducted into the Red Dragons' Hall of Fame in September, 2014. A native of Centerville, Ohio, Leaman and his wife, Alice, have three young sons, Ty, Bryce and Nolan.
Ray Treacy '82
---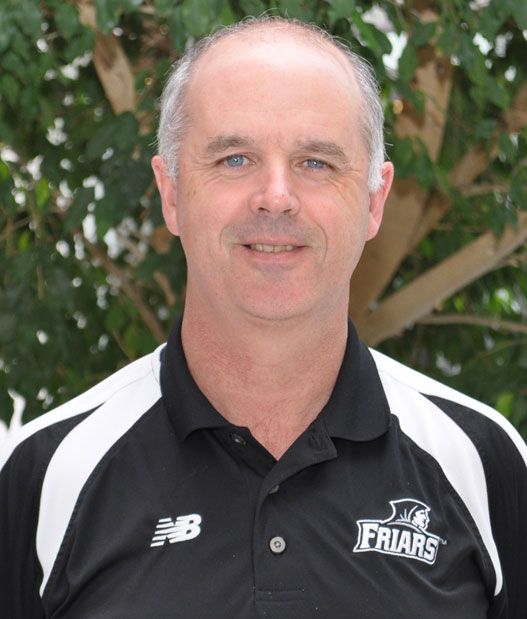 One of the nation's most successful coaches, Ray Treacy embarks on his 32nd season as Director of Cross Country and Track at Providence College. In his 31 years at Providence, Treacy has coached 63 All-Americans, who have received a total of 174 All-America accolades, seven NCAA individual champions, who have captured 15 NCAA titles overall, 44 BIG EAST individual champions, who have captured 116 BIG EAST titles, and 11 Olympians. In addition, his women's teams have captured two NCAA Cross Country Championships (1995 and 2013), 13 NCAA Northeast Regional Cross Country Championships, 21 BIG EAST Cross Country titles and 20 New England Championships.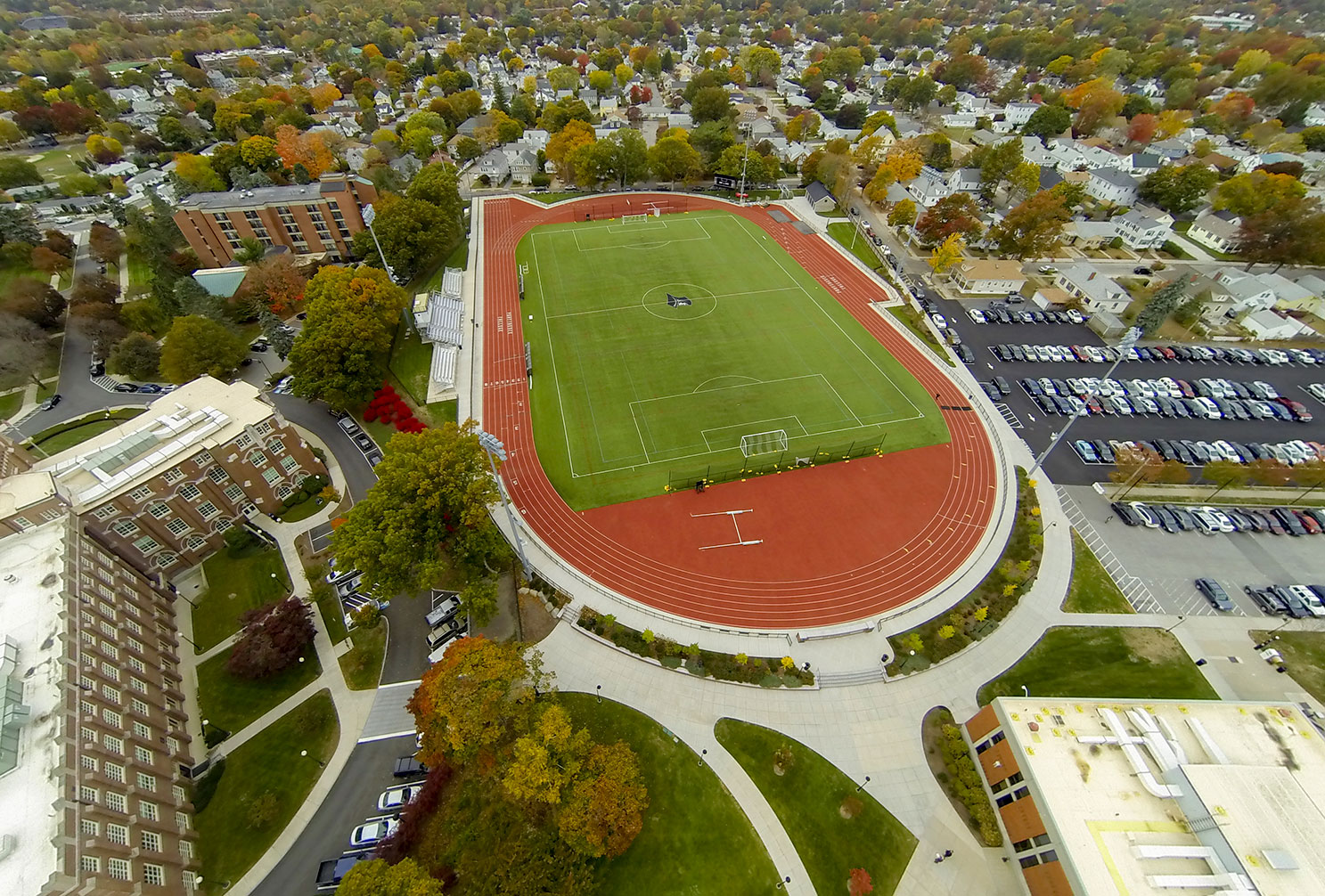 Treacy's road to success began when he was a student-athlete at Providence College. The brother of 1984 Olympic silver medalist, John Treacy '78, Ray's collegiate list of accomplishments and accolades is lengthy. He was the Friar team captain during his junior and senior seasons and collected All-America honors on three occasions. He was a two-time New England Cross Country Champion and won the indoor 5,000 meters at the BIG EAST Championships three times. The talented distance runner also was the IC4A Champion in the 10,000 and 5,000 meters during the 1981 and 1982 seasons, respectively.
A 1982 graduate of the College, Treacy is committed to the success of PC's cross country and track programs. Since he took over as head coach in 1984, Treacy's knowledge of conditioning and training has moved the Providence's cross country and track programs into national prominence. Both the men's and women's cross country programs have advanced to NCAA Championships in 18 of the last 20 seasons, while the women's team has landed a record 25 out of 26 seasons.
Highlights among those 25 women's cross country seasons include the 1990, 1995, 2003, 2004, 2012 and 2013 women's cross country squads. These six teams each finished among the top-three teams in the country at the NCAA Cross Country Championships. The 1990 cross country team placed second with three runners in the top 20 earning All-America honors. Along with the team's 1995 and 2013 NCAA titles, the 1990 squad's second-place finish is one of the top accomplishments of the program along with the 2012 team's second-place finish.
The 1995 team captured the programs first NCAA title. On the road to the title, the squad won its first BIG EAST and ECAC Championships. In recognition of his efforts, Treacy was named NCAA Division I Women's National Coach of the Year, BIG EAST Men's and Women's Coach of the Year, Rhode Island Words Unlimited Women's Coach of the Year and NCAA District I Women's Cross Country Coach of the Year.
The most recent of Treacy's team successes was the 2013 women's cross country team capturing the program's second NCAA title. Three Friars, Emily Sisson '14, Laura Nagel '14 and Sarah Mary Collins '16, finished with All-America accolades to help the team secure the win. Leading up to the Championship, the team also won the BIG EAST and NCAA Northeast Regional titles. For his efforts, Treacy was named the USFTCCCA National Coach of the Year, the Northeast Women's Cross Country Coach of the Year and the Rhode Island Words Unlimited Coach of the Year. A former Irish national junior champion and a past member of the Irish National Cross Country Team, Treacy currently resides in Warwick, R.I. with his wife, Lisa. They have two sons, Michael and Liam.
Diane Madl
---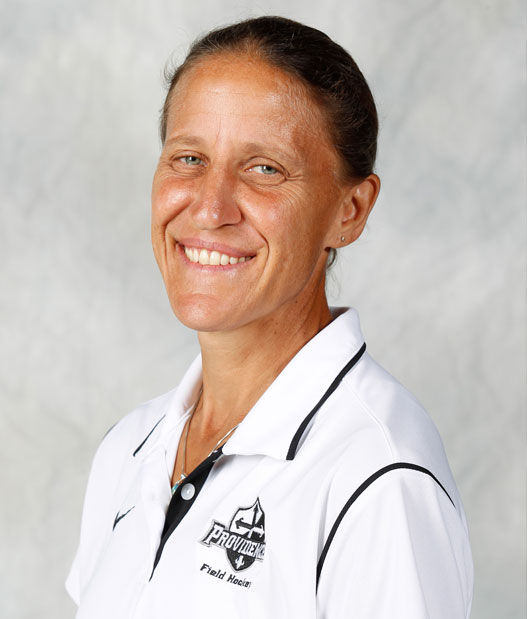 Diane Madl became the field hockey programs' sixth head coach on February 4, 2002 and will embark on her 15th season with the Friars in 2016. Madl and her staff have enjoyed some of the most successful seasons in program history.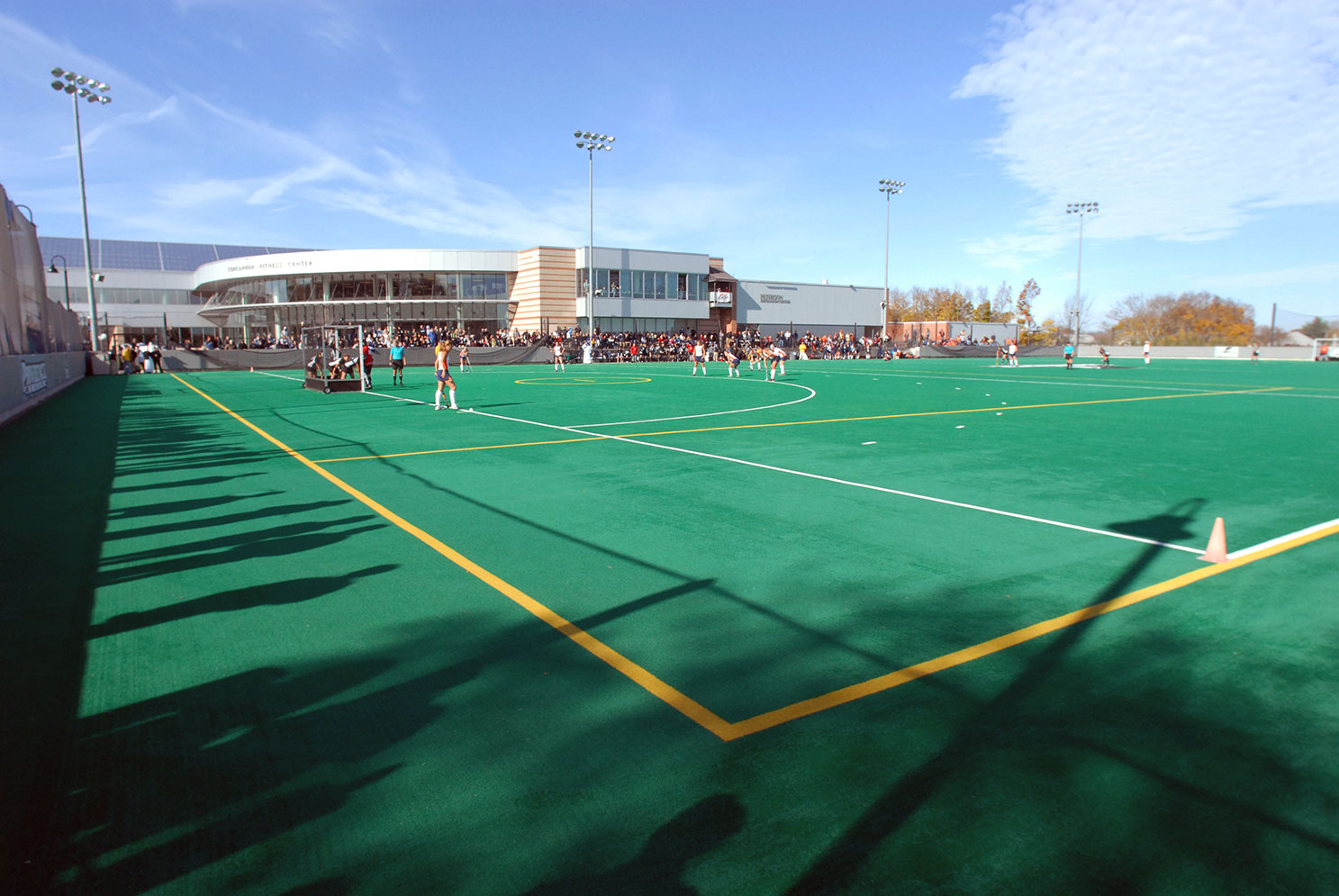 Providence has qualified for the four-team BIG EAST Championship in five of the last eight seasons under Madl's guidance. The Friars captured the BIG EAST Conference regular-season title in 2006 and advanced to the championship game of the conference tournament twice (2006, 2007).
During Madl's first three seasons on the sidelines, the team still played on a grass surface. During that initial stretch, the team posted a 26-33 record, while attempting to change the culture of the program under its new leadership. In 2005, Providence field hockey started a new era with the opening of the Lennon Family Field. The complex is a state-of-the-art Astroturf facility that has helped to springboard the program back on to the national scene.
The Friars' run of success began in 2006 in what is described as one of the most celebrated seasons in program history. The Friars posted an 18-4 overall record and captured the BIG EAST Conference Regular-Season title. Providence's 18 victories in 2006 are tied for second most all-time in program history, while the Friars' five league victories mark a program best. The program quickly found itself among the nation's best and was ranked in the NFHCA Division I National Coaches' Poll for nine-consecutive weeks, including seven-straight weeks in the top-15. At season's end, the Friars earned a final ranking of 11th. Madl was honored as the BIG EAST Conference Coach of the Year, Dita/NFHCA Division I Northeast Region Coach of the Year and Words Unlimited Coach of the Year.
Madl, a native of Mountaintop, Pa., was a three-sport stand-out in field hockey, basketball and softball at Crestwood High School. Upon completion of her high school career, she went on to play field hockey at UConn from 1985-88. While at UConn, she helped the Huskies capture the National Championship in 1985. She was a two-time All-America selection (1987, 1988) and earned the Honda Broderick Award upon the completion of her career, as the top collegiate field hockey player in the nation. Madl also earned Academic All-America honors and graduated magna cum laude, with a bachelor's degree in business administration in 1989.
Madl went on to play for the U.S. National Team and competed in a multitude of events for Team USA, including the World University Games (1989), World Cup (1990), Inter-Continental Cup (1989 and 1995) and the Champions Trophy (1995). She reached the pinnacle of her playing career in 1996 as a member of the U.S. National Team that competed in the Olympic Games, held in Atlanta, Georgia.
Madl was inducted into the Luzerne County (Pa.) Athletic Hall of Fame in 2005, and was inducted into the Pennsylvania State Athletic Hall of Fame on May 18, 2008. She is the daughter of Ruth Ann and David Madl.
Providence College Student-Athletes Post 95-percent Graduation Success Rate
---
PROVIDENCE, R.I. – The NCAA announced last week the overall Division I student-athlete Graduation Success Rate increased to 89-percent, the highest ever. Providence College posted a 95-percent Graduation Success Rate according to the recent data released.
The GSR formula removes from the rate student-athletes who leave school while academically eligible and includes student-athletes who transfer to a school after initially enrolling elsewhere. This calculation provides a more accurate appraisal of student-athlete success.
Nine Providence College programs posted a perfect 100-percent GSR for the 2009-12 cohort - men's and women's hockey, men's and women's swimming and diving, field hockey, women's cross country/track, softball, women's tennis and women's volleyball.
Last spring, five Providence College programs were recognized with NCAA Public Recognition Awards for scoring in the top 10-percent of their respective sports in Academic Progress Rate (APR) for the 2017-18 season.

Emily Wall '21
A Friar Focused on Health and Fitness
---
While not everyone at Providence College is a student athlete, students can work and train just as hard as one in the Concannon Fitness Center using the right exercises and equipment.
Emily Wall '21, a biology major, member of the Liberal Arts Honors program, and an athlete on PC's cross country and track team, is helping students do this with a weightlifting program she created through an internship accessible to the entire PC community for only $5.
Last semester, Wall found an online internship opportunity through Dasha Agoulnik, a graduate student from Tufts University, which allowed her to further explore the world of health and fitness.
Wall's final project included creating her own fitness plan, which consists of a seven-day weightlifting routine that can be followed for eight to 10 weeks. Wall explained that while this may seem intimidating to those who do not regularly go to the gym, the plan is designed for anyone to use.
"[It] gives freedom to the person following it, so they can determine the amount of weight they should be lifting and the intensity," said Wall.
The internship took place throughout the fall semester and was entirely online. "I communicated with Dasha frequently through email and phone to discuss what I needed to do and how to improve the projects I was working on," Wall explained.
She also talked about how fitting the internship into her already busy schedule was not difficult for her, saying, "I had the ability to work on my projects whenever I wanted, and I just had to make sure to submit my weekly project by Saturday of that week."
Wall also worked on smaller tasks throughout the semester for Dasha Agoulnik's business, CoreRestore, which focuses on helping people improve their gut health by giving helpful recipes, tips, and tricks through email subscriptions.
One of Wall's favorite parts about creating her final fitness plan, besides being able to help others on their own fitness journeys, was the research behind it. "I really enjoyed reading articles written by other scientists," mentioned Wall, "and I want to learn everything I can from experienced scientists."
Wall mentioned how she had always wanted to know more about health, fitness, and nutrition, as indicated by her passion for running and her interest in biology. "I took this internship because I am truly interested in nutrition and helping others," said Wall.
She also mentioned how she learned a lot about different autoimmune diseases, how nutrition affects people in different ways, and how to use software she had never used before through this internship, and is grateful for the experience.
Now that Wall's internship has come to an end, her plan for this semester is to focus on her schoolwork and her recovery from a running injury she got at the end of last semester. She also hopes to start volunteering at a local doctor's office and possibly starting her own health and fitness blog.
Wall also runs her own health and fitness Instagram account @emwfit_, which she hopes inspires people to live healthy and happy lives, saying, "I try to motivate others to do what they love and to enjoy the life they are living."
Kaela Webb '22
Determination drives Kaela Webb '22 on and off the court
---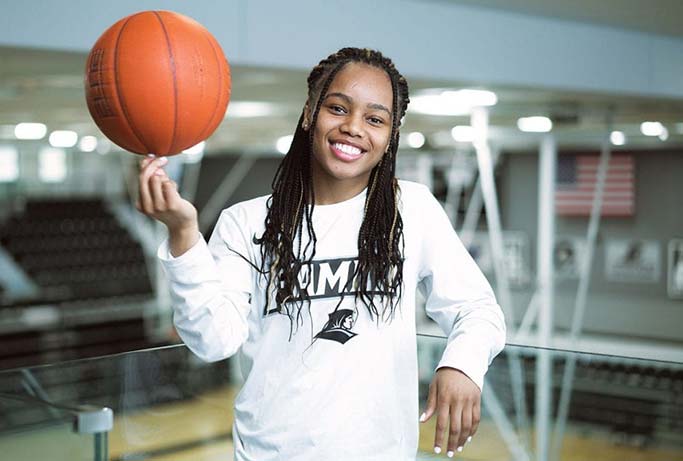 If you are going to succeed in Division I women's basketball at 5-foot-6, like Providence College's Kaela Webb '22, you better have more going for you than just your physical ability.
You'll need a big heart and a mindset that allows you to meet every challenge head on.
Webb, the Friars' starting point guard, has that covered.
"She's fearless," said coach Jim Crowley.
It's one of the qualities that drew the Friars to Webb, who capped a fine first season in 2018-19 by being named to the BIG EAST Conference All-Freshman Team.
"It doesn't matter who she's going against, who she plays. When she steps on the floor, she believes, and she helps her teammates believe that, 'Yeah, we're going to get them.' Our program needed that," said Crowley, whose freshman-laden team won 19 games and advanced to the round of 16 in the WNIT in 2018-19. The Friars won nine more games than the previous season.
Playing big, even when you're not, is second nature to Webb.
"No matter how small you are, it's a mental thing. If I feel like I'm 6-7, I can play like I'm 6-7," she said.
Webb started playing basketball in the second grade. Her father and mother, Tim and Shakela, always supported her and her four siblings in their pursuits, athletic and otherwise.
"My parents were always behind us; they would do whatever it took to make us happy," she said.
Webb comes from a basketball family.
"Her dad has coached at every level, and her mom probably could, she's been at so many games," said Crowley. "Basketball is really important to her, and so are the relationships that come with it, and that's important to us."
Webb's big heart shines through off the court, too. She has had a positive impact in her community in Pontiac, Mich., and hopes to continue to do so. While in high school, with help from her family, she wrote cards at Christmas and Valentine's Day and distributed them to about 30 military veterans in Pontiac. She organized a basketball clinic for children ages 6 to 12 with help from high school teammates and coaches.
"It's a way to give back to the community, the people that invested in us. They need to see someone setting an example for them so they know how things should be. We should strive to have the best city in the state," Webb said.
"At the end of the day, I do want to go back home and have a community center and rebuild the community there, which isn't all that great. The kids that are coming up should get that and have that experience, see someone who went off and (got an education and played basketball), then came back and did the things they wanted to do."
She savors the relationship between the women's and men's athletics teams and other student-athletes at PC.
"We're pretty close with the men's basketball team. We try to do stuff like going to the beach this summer. We went bowling together. David (Duke) is from here so we kind of look to him because he knows the ins and outs of everything. We try to get out and see the city. We're good at going and exploring things," she said.
"They come to our games, we go to theirs. We're always around each other. We try to get out and go to hockey games and lacrosse games, a lot of soccer games. Just being together in the athlete community. It means a lot to us. Having that extra friendship goes a long way," she said.
Webb-to-PC was a long shot at first. One of the top high school players in Michigan at Detroit Country Day, she had 20 college offers. She verbally committed to BIG EAST power Marquette in 2016 but later decided to reopen her search.
When the PC coaching staff reached out to her, she wasn't all that interested.
"But a month or so later, she called us and said, 'I just feel like I have to see it,"' said Crowley. "She came during Late Night Madness, had a great visit. She committed before she left."
Why the change of heart?
"I made that (original) decision early in my high school career. I was blessed to have the opportunity to say, 'Hey, let's just look at the options I have in front of me.' I felt I owed it to myself to at least see what Providence had to offer," said Webb, who designed her own major in digital media and studies Mandarin Chinese as a minor.
The opportunity to be an important part of PC's rebuild under Crowley was enticing, too.
"Instead of going to a program that already had a (big) name, I wanted to be a part of the building process and be remembered in that way," she said.
Zero was Webb's uniform number in high school, and she's continued with it at PC. It's an interesting choice in that it reflects the way she sees her game.
"I don't have to score to be great. Distribute the ball, and I don't have to score to help my team succeed," said Webb, who averaged 8.1 points, 1.7 assists, and 1.3 steals a game in her first season.
Crowley is confident that she's only going to get better.
"She didn't scratch the surface of what she can be consistently. She knows that. We've had that conversation. She embraces that," said Crowley, who enters his fourth season at PC after two decades at St. Bonaventure.
With the ball in Webb's hands, better days are ahead for women's hoops at PC.
"We're on the right path to doing what we want to do," she says.